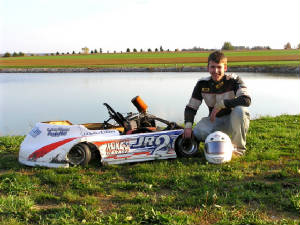 Late Model Starts: 46 Wins: 0 Top 5's: 18 Top 10's: 32 as of 2008
Dylan got his racing career started in 2001, age 9, when his dad bought him a go-kart for Christmas. His first race was at the inagural race at Selinsgrove Raceway Park in the Rookie Caged Class. He won his first race ever racing a go-kart. He picked up 4 more wins at the park during that year and placed 2nd in points. That year he also raced at Penns Creek Raceway picking up 14 wins at the track for the year and the track championship.
In 2002 he got a Lightning 2 chassis by Twister. That year he picked up 18 wins at Racway Park, 18 at Penns Creek, and 1 race at Lil' Greenwood for a total of 37 feature wins. He picked up the track championships at the Park and Penns Creek in the Rookie Caged 9-12 yr. olds. Then in 2003 he ran the Jr. Caged class at Selinsgrove. He won 12 races that year and the championship; also winning 2 races at Penns Creek. In 2004 he raced Jr. Caged again winning 19 races and the championship.
In 2005 Dylan moved up to the adult classes running the lites division. Towards the end of the year they bought a new Twister 05, and they sold the old kart to Abe Hostettler. He won 6 races that year including the last running of "The Big One" at Sliver Spring Speedway. He won the inagural Speedweekend championship in the lites division that year also, and got 2nd in points at the Park.
Then in 2006 he raced in the lites division again, and the #365 Money Class at Selinsgrove. He won 4 races at Selinsgrove and 1 at Lil' Greenwood. He won the #365 Money Class championship, and finished 2nd in the lites points standings. He also won the Speedweekend Series championship in Lites.
In total Dylan has 99 career feature wins, has 6 track championships, and 2 series championships. He hopes to get another championship this year and get that 100th win.
Then in 2007 he started his late model career. But before his first late model race he won two go -kart races which put him at 101 career wins. His first race was at Gambler's Raceway Park. He also ran a couple of races at Clinton County where he had two 2nd's. The last race of the year at the Chili 100 he started 20th and finished 6th. He finished his first year with 14 starts, 5 top 5's, and 11 top 10's.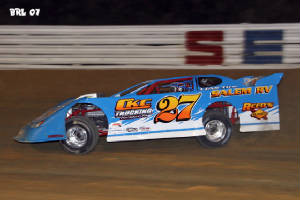 Starting his racing career at the age of 16, Jim Yoder had no exposure to the dirt racing prior to his teen years. Despite growing up in the backyard of Pennsylvania's Selinsgrove Speedway, Yoder's maiden voyage in a race car didn't come until 1985.
After being exposed to the sport by friend and neighbor Phill Miller of Miller Racing Engines, Yoder drove headfirst, competing in Selinsgrove's Street Stock class for four seasons. In time the division became the Semi-Late class and Yoder earned 25 feature wins between 1986 and '90.
The decade of the 1990's was an on-again, off-again time for Yoder's racing, but he srill managed to rack up close to 10 Late Model features at Selinsgrove and Clinton County Speedway. His record was good enough to catch the eye of car owners Sam and Sis Ray of Milesburg, Pennsylvania in '99, and the following year, Yoder teamed up with the Rays to hit the Eastern Seaboard's competitive Dirt Late Model circuit.
With SR1 Motorsports, the 33-year-old Yoder, a foreman at Modular Structures Inc., found stability for his program as well as an opportunity to get out on the road.
The team began the 2000 season with no set plans, but wound up following the MACS Tour, finishing an impressice second in the final points standings. The highlight of the campaign was Yoder's first MACS feature win, which he collected at Thunder Valley Speedway in Central City, PA., on June 3. "I started on the front row and Scotty Haus started right with me," Yoder recalled. "We had a couple of restarts and the pressure was on. I led every lap of that one. We were really happy to get that win."
In 2001 the SR1 Motorsports team once again followed the Macs Tour, and Yoder attribures a lot of his success to the traceling experience. "I really loved Tyler County," he said of the West Virginia oval. "MACS didn't go there in 2001, but in 2000 when we did, I had a blast."
Traveling with a series requires long hours, both in the shop and away from home. Yder's wife, Dawn, and son, Dylan, traveled with him a good bit in 2000, but Dylan's interests took over in 2001. Competing in go-karts, Dylan spent the summer developing his own driving skills. "He helps out in the shop, but he's not old enough to get in the pits," the elder Yoder said. "My son had more wins in 2001 than I did, he won his first race out and the championship."
Requiring more than an hour of road time (one way) at least once -- and usually twice-- a week to the team's shop in Milesburg, Jim and brother Gene maintain and work on the cars each week throughout the saeason. The two-man crew does a great job, but it can be difficult at time. Making all but three shows in 2001, they hung on to finish thrid in the MACS series championship chase, with came down to a three-way shootout between Yoder, Lynn Geisler, and Blose.
"We didn't make three of the shows," said Yoder," One was Challenger, which I usually fun well there, the last show at Cumberland, which we went up agains the 'best of the best' there. It was a little disagppointing because it came down to the last race and we got in a wreck in the heat race. We had to run the D, C, and B Mains and missed the show by two positions.
"I liked running the MACS," Yoder continued. "I liked the way they draw pills and run heat races. I'm not one much for time trials, I guess, because I don't usually do well."
Towards the end of the 2003 season, after running for himself for the year, he landed a ride with John Handiboe, of H&H Racing Equipment. They ran together untill the end of the 2006 racing season, picking up wins at Hesston, Selinsgrove, and Port Royal.